Disclaimer
De meningen ge-uit door medewerkers en studenten van de TU Delft en de commentaren die zijn gegeven reflecteren niet perse de mening(en) van de TU Delft. De TU Delft is dan ook niet verantwoordelijk voor de inhoud van hetgeen op de TU Delft weblogs zichtbaar is. Wel vindt de TU Delft het belangrijk - en ook waarde toevoegend - dat medewerkers en studenten op deze, door de TU Delft gefaciliteerde, omgeving hun mening kunnen geven.
At the moment we are busy preparing the MapleTA classes connected to last years Blackboard courses for the start of the new academic year. As the new Blackboard courses are being created each summer, so will the corresponding MapleTA classes be 'renewed'.
In order to improve MapleTA's functionality we are introducing a slightly different way of working with MapleTA connected to Blackboard. This routine improves
re-use of questions over the years
re-use of assignments
sharing questions with different Bb-courses (for example the Math Question Bank)
item analysis over all child classes
class management
 The following scheme illustrates the way MapleTA is set up in combination with Blackboard.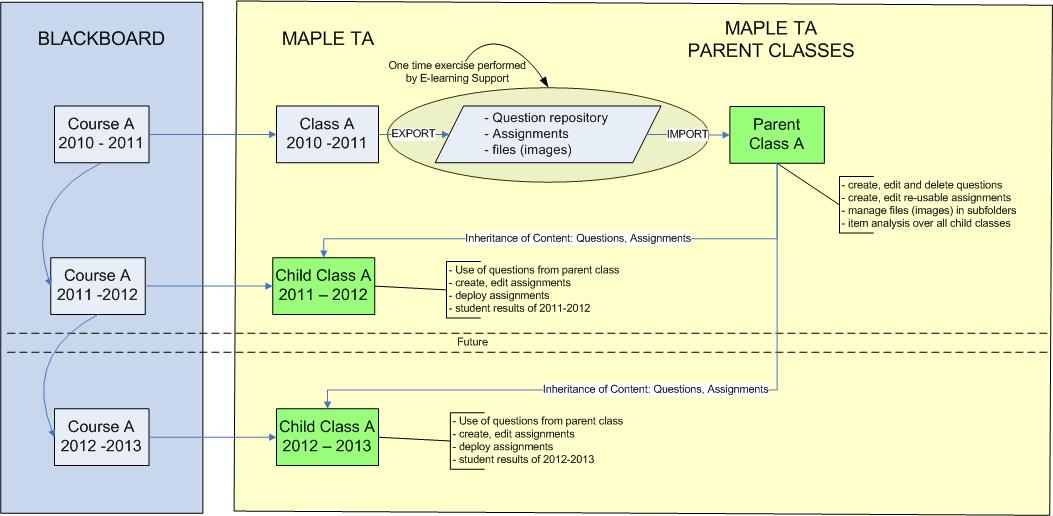 In the scheme you see that from an existing MapleTA class (connected to Course A in Bb), the content to be re-used (question repository, assignments and images) are exported to a newly created Parent Class A. The purpose of this parent class is to manage re-usable content for oncoming years or sharing content with different classes within one year.
In order to add new questions to a child class or edit an inherited question, the instructor needs to go to the parent class and add or edit the question there. Since inherited questions can not be modified in a child class. New questions can be created in a child class, but they cannot be added to the inherited question groups. Plus these questions will not be available in next years child class. 
In the child class an instructor can choose whether to re-use assignments from the parent class or create new assignments.  
Detailed instructions will follow shortly. If you have any questions concerning this set up. Either contact me or E-learning Support.